Dozens of striking TV and film writers, as well as supporters from other area unions, protested outside Boston University's commencement Sunday, which featured Warner Bros. Discovery president and CEO David Zaslav as the speaker. Graduating students protested with chants during the ceremony itself.
The Writers Guild of America has been on strike since the beginning of the month, calling for higher pay, more money from streaming, and safeguards around the use of artificial intelligence. They point out that executives like Zaslav and other major studio executives make tens of millions of dollars every year.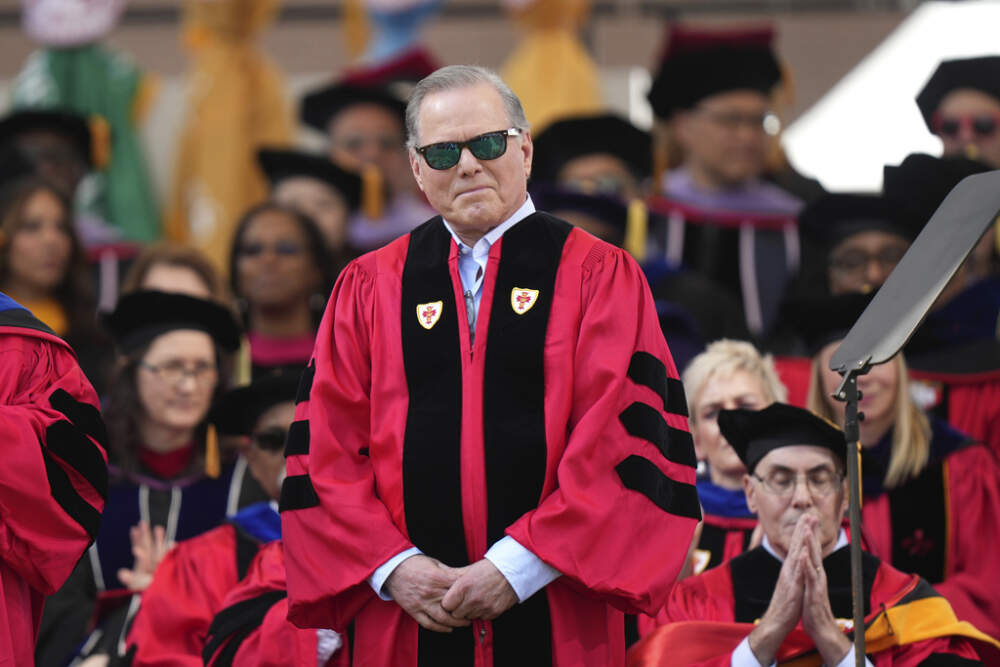 "I don't have a paycheck coming in, and instead of sitting at my typewriter I'm holding a sign and walking around on Commonwealth Avenue," said Boston-based screenwriter Gary Wolf as he marched outside BU's Nickerson Field.
Over head, a plane flew a banner that read, "David Zaslav — pay your writers."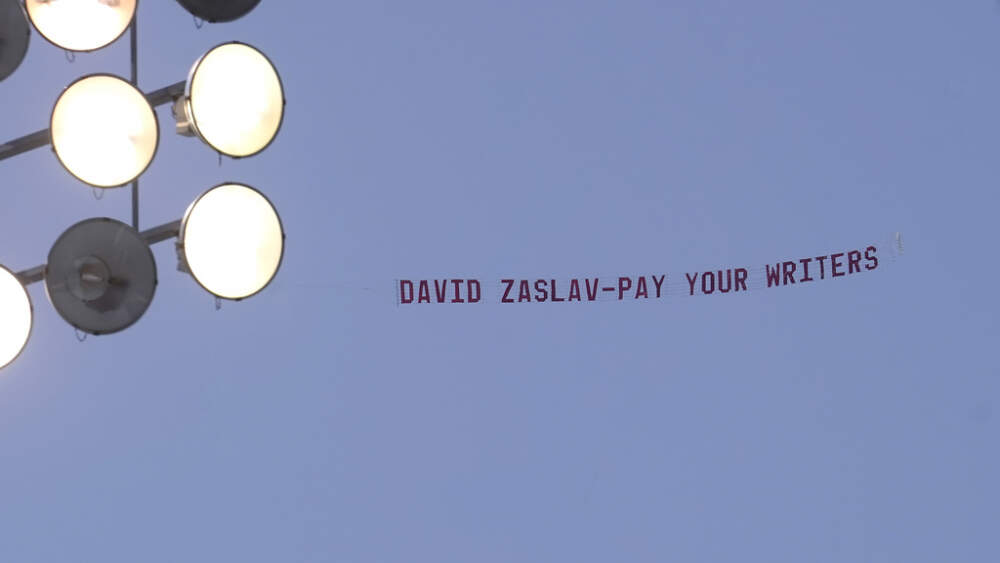 Even as the protestors drowned out BU's announcement system with their chanting, they found support among parents and students.
Graduating senior Talia Havivi showed up in her red commencement robes — but said she couldn't cross the picket line to go to the ceremony.
WBUR is a nonprofit news organization. Our coverage relies on your financial support. If you value articles like the one you're reading right now, give today.
"It just completely goes against my code of ethics and I don't have it in me," she said. Havivi joined the protestors instead.
Maura O'Gara, of Quincy, was there to see her daughter graduate. She did enter the event but said she supported the strikers' cause.
"It is slightly uncomfortable, but I really feel comfortable with the process," she said. "I'm very happy that people are able to protest peacefully."
Inside, students booed when Zaslav received his honorary degree, and heckled him throughout his 20-minute speech.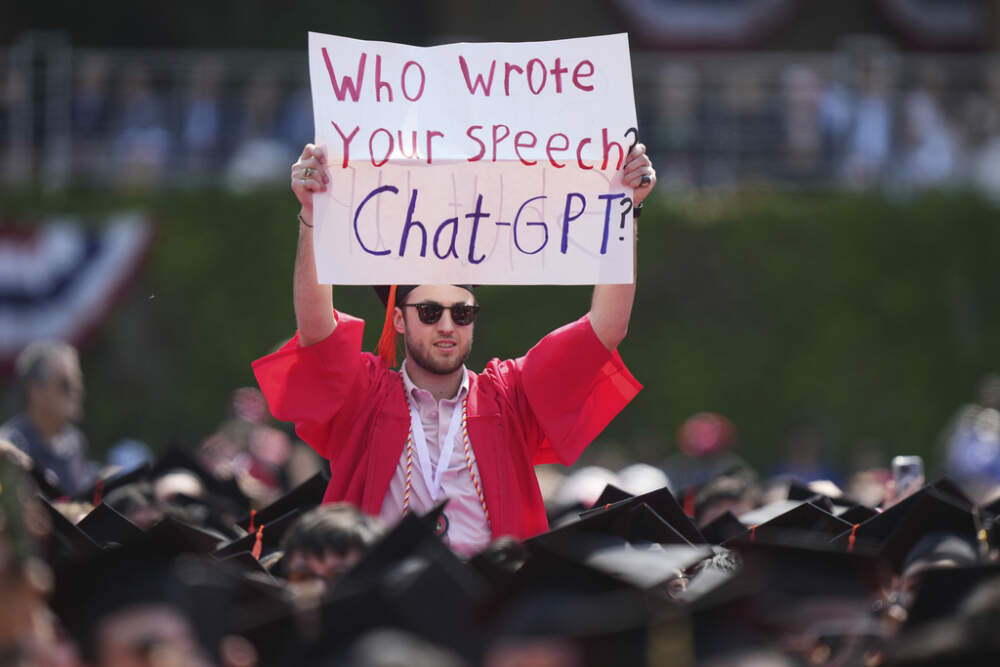 Zaslav, who graduated from the university's law school in the mid-1980s, was a controversial choice. After the university announced he would be the speaker, the Writers Guild, as well as the BU Young Democratic Socialists of America, and the BU Graduate Workers Union, asked the university to rescind the invitation and organized the protest.
University officials did not respond to a request for comment. But BU president Robert Brown previously told the Daily Free Press, "It is not in keeping with our policy for free and open speech to disinvite a speaker to indicate support to a party in a labor dispute."
More than 11,000 members of the Writers Guild have been on strike since the beginning of May; it's the first Hollywood strike in 15 years. The union says it is seeking better pay among other safeguards as the industry is experiencing a content boom because of streaming.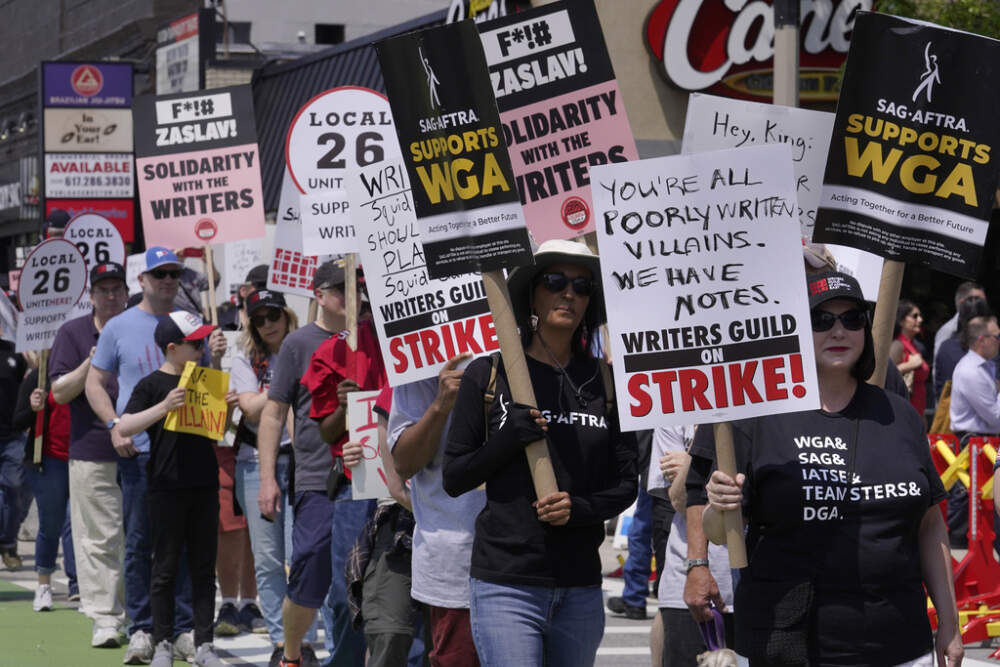 The Alliance of Motion Picture and Television Producers said it offered "generous increases in compensation for writers as well as improvements in streaming residuals," The Associated Press reported. The alliance says it offered the highest first-year wage increase in a WGA contract in more than 25 years.
In a statement after the event, Zaslav said, "I am grateful to my alma mater, Boston University, for inviting me to be part of today's commencement and for giving me an honorary degree, and, as I have often said, I am immensely supportive of writers and hope the strike is resolved soon and in a way that they feel recognizes their value."
Editor's note: Boston University owns the broadcast license for WBUR, which maintains editorial independence.
With additional reporting by The Associated Press' Steven Senne.
Source : WBUR