People staged demonstrations around the world in protest of Russia's full-scale invasion of Ukraine a year after its onset. In Berlin, a disabled Russian tank was put on show near Moscow's embassy.
A wrecked T-72 tank near the Russian Embassy in Berlin, a 13-year-old refugee playing a piano concert in Liverpool, candles calling for peace outside the cathedral in one of the newest NATO-aspirant capital cities, Helsinki. People across the world held memorials, stunts and ceremonies to mark a year since Russia's invasion of Ukraine on Friday.  
Berlin: Major march, Russian tank near Brandenburg Gate
In Berlin, police estimated that more than 10,000 people had participated in a march through the city during the day and said they were reckoning with more arriving in the evening.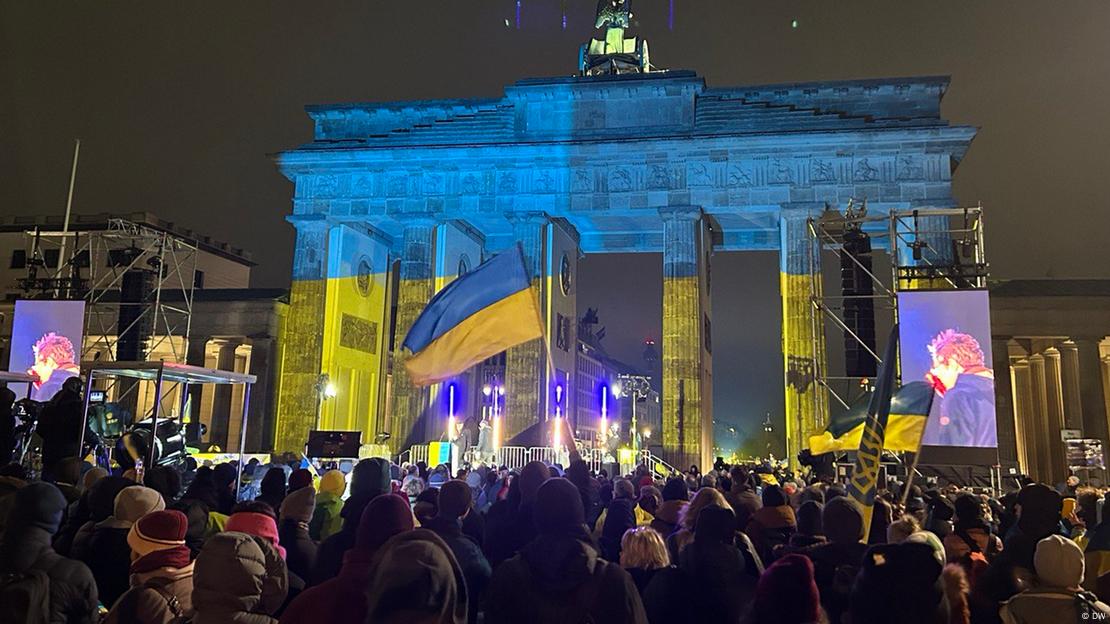 The rally paraded past various major landmarks in the city, like the Brandenburg Gate and Unter den Linden avenue, which is also the location of Russia's embassy in the city.
There; a wrecked T-72 tank, damaged in combat in Ukraine, was on display after the group behind the plan won a court battle resisting the idea late last year.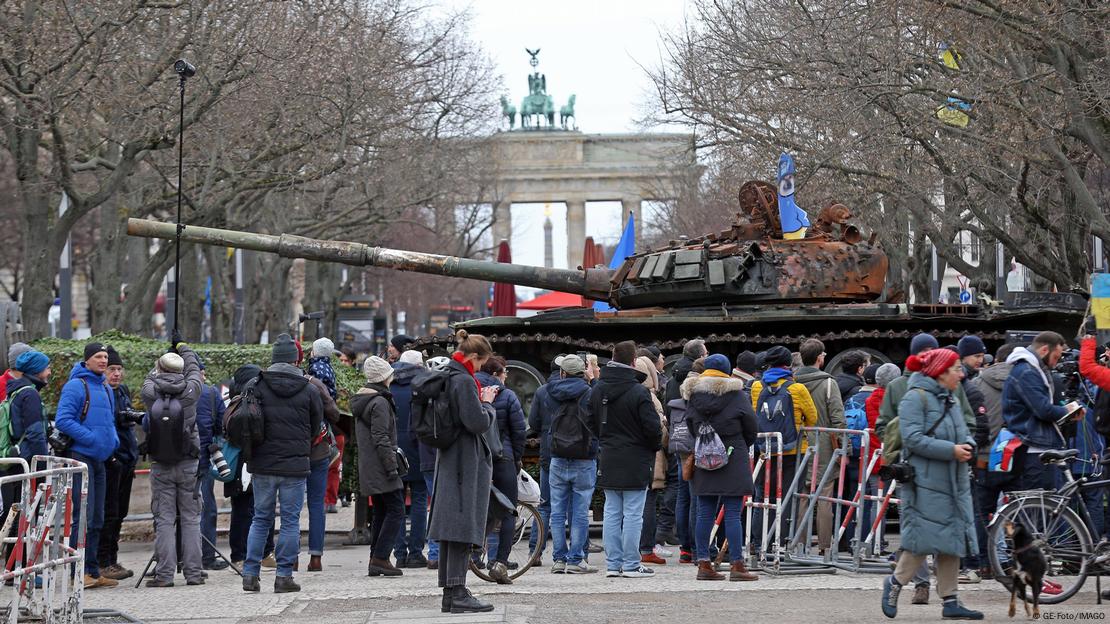 "The whole world should see that there are many people in Germany who stand behind Ukraine, so that's why we're putting the Russians' scrap tank in front of their door," said Wieland Giebel of the Berlin Story Museum, who was one of the exhibit's organizers.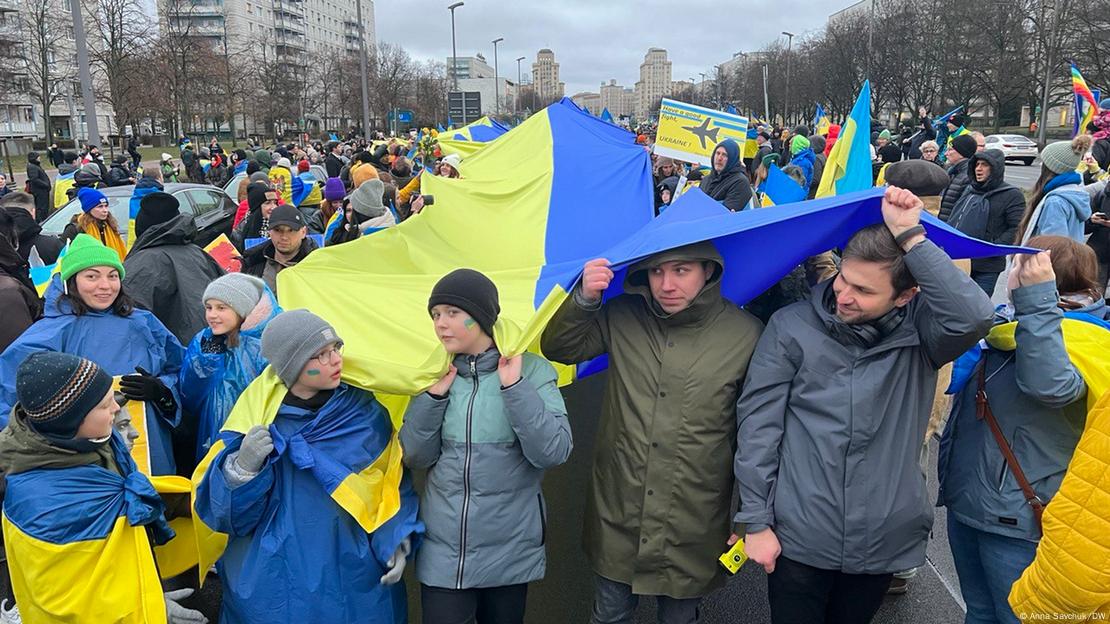 At Berlin's renowned film festival, the Berlinale, guests on the red carpet held up signs in the colors of Ukraine saying "Stand with Ukraine." This year's jury president, US actress Kristen Stewart, and other jury members participated in the action. They were supported by Berlin's Culture Minister, Claudia Roth, and Ukraine's Ambassador to Germany, Oleksii Makeiev.
Refugee pianist, cathedral candles, blood-soaked cake
In the UK, Prime Minister Rishi Sunak observed a minute's silence outside 10 Downing Street with Ukrainian officials, and King Charles III published a statement praising the "remarkable courage and resilience" of the Ukrainian people.
In Liverpool, Alisa, a 13-year-old refugee, played the national anthem on the piano wearing traditional Ukrainian dress. She fled to the northwestern English city with her mother early in the conflict and they are settling in there.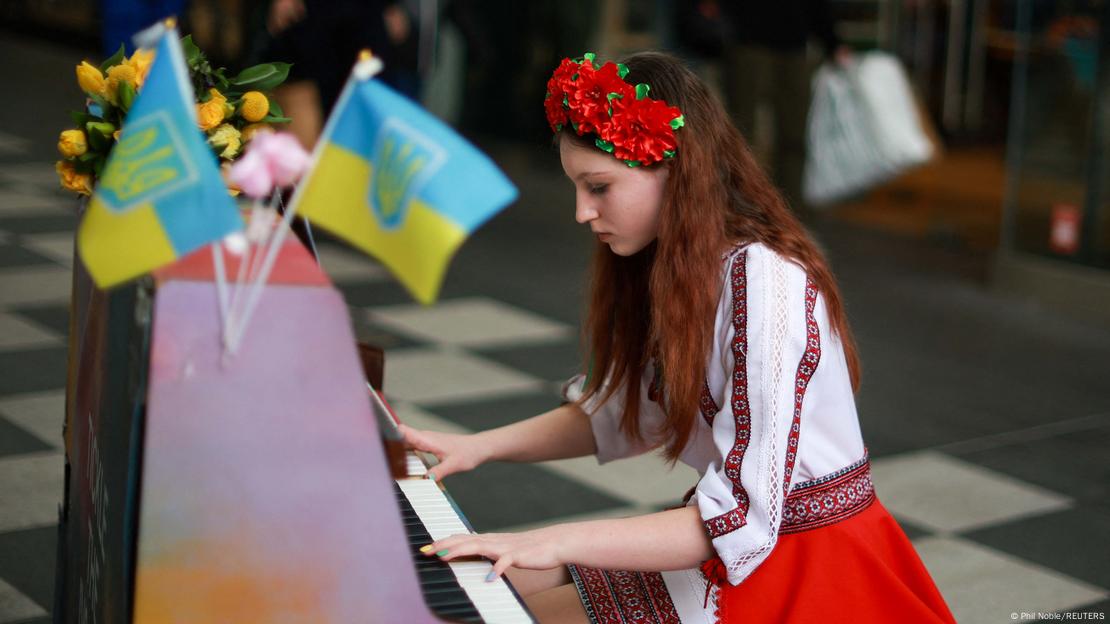 In Finland, a country now seeking NATO membership as a result of Russia's invasion of Ukraine, people placed candles at a memorial outside the cathedral in Helsinki in an appeal for peace.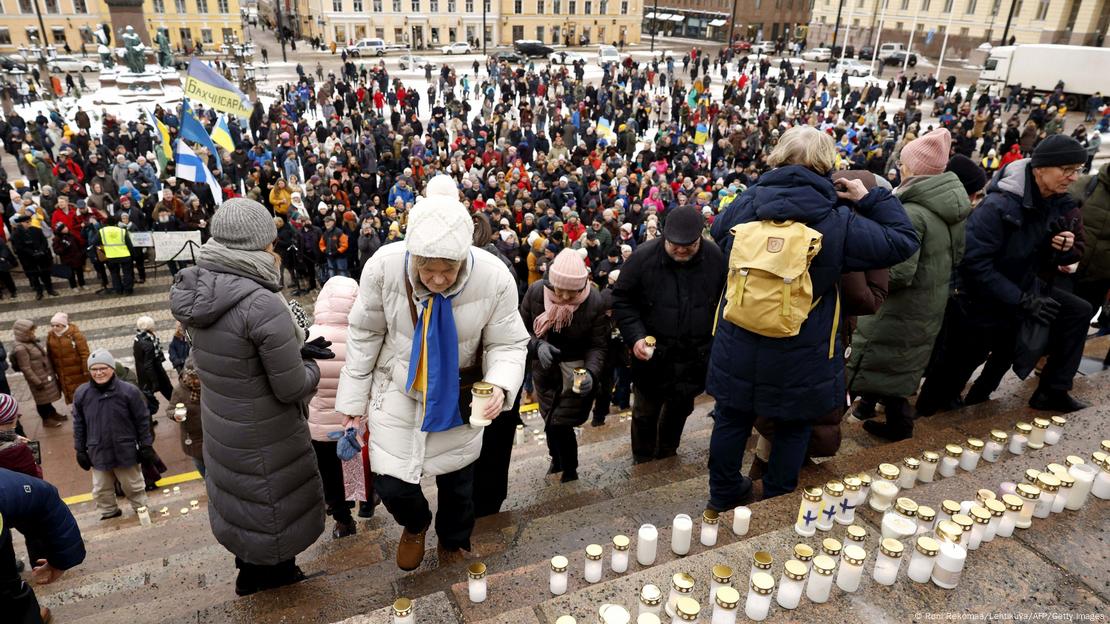 Even in Serbia, whose government has maintained comparatively friendly relations with Moscow and has not joined Western sanctions against Russia, protesters sought access to Russia's Embassy on the anniversary. 
Police stopped them from approaching the building. The activists wanted to hand over a demand for Russian President Vladimir Putin to be put on trial for genocide in Ukraine. They left a cake covered with red icing representing blood and with a skull on top of it on the pavement near the embassy.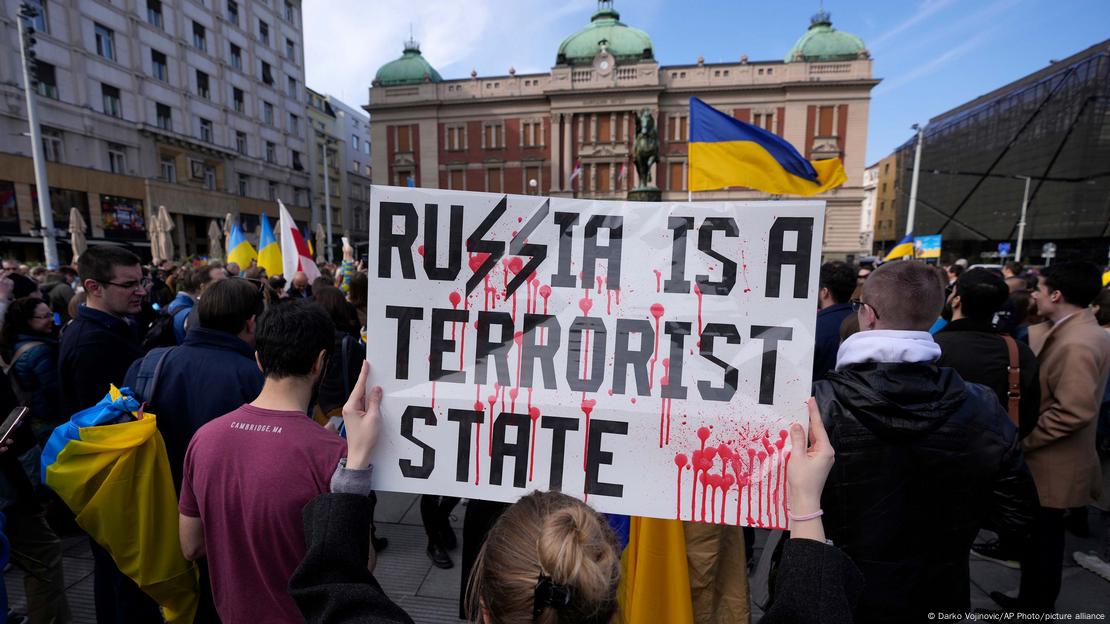 Seoul, Paris, Brazil, Bangkok, Brussels and beyond
The Eifel Tower in Paris and the parliament building in Lisbon were lit up in the colors of Ukraine's flag on Thursday evening, heading into the anniversary. The Sydney Opera House followed suit on Friday, with demonstrations in several Australian cities on Thursday and Friday.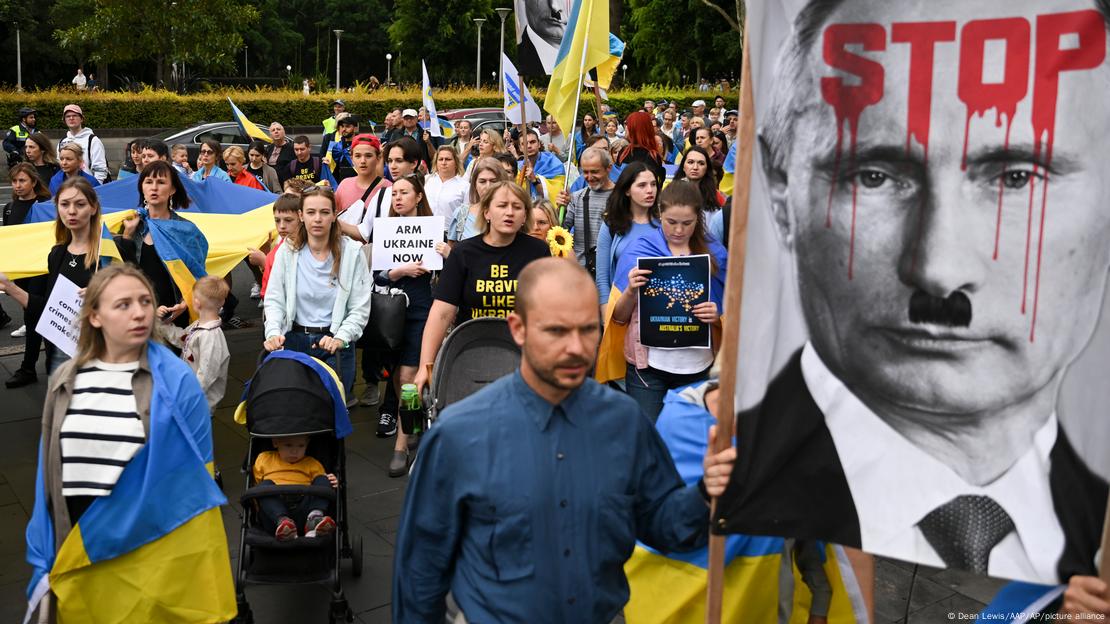 In South Korea, dozens of people, including Ukraine expatriates, gathered outside the Russian Embassy in Seoul.
A Ukrainian woman from the frontline city of Kharkiv, Iliana Martsenyak, spoke at an event in Bangkok in Thailand.
"Honestly, I cannot find any words to describe how me and every single Ukrainian feels today because of this absolutely irrational, cruel and awful war that has been brought to our land," she said.
A peace rally was also held in Tokyo and in Bali, Indonesia, people laid flowers outside Ukraine's consulate in tribute to those killed in the war.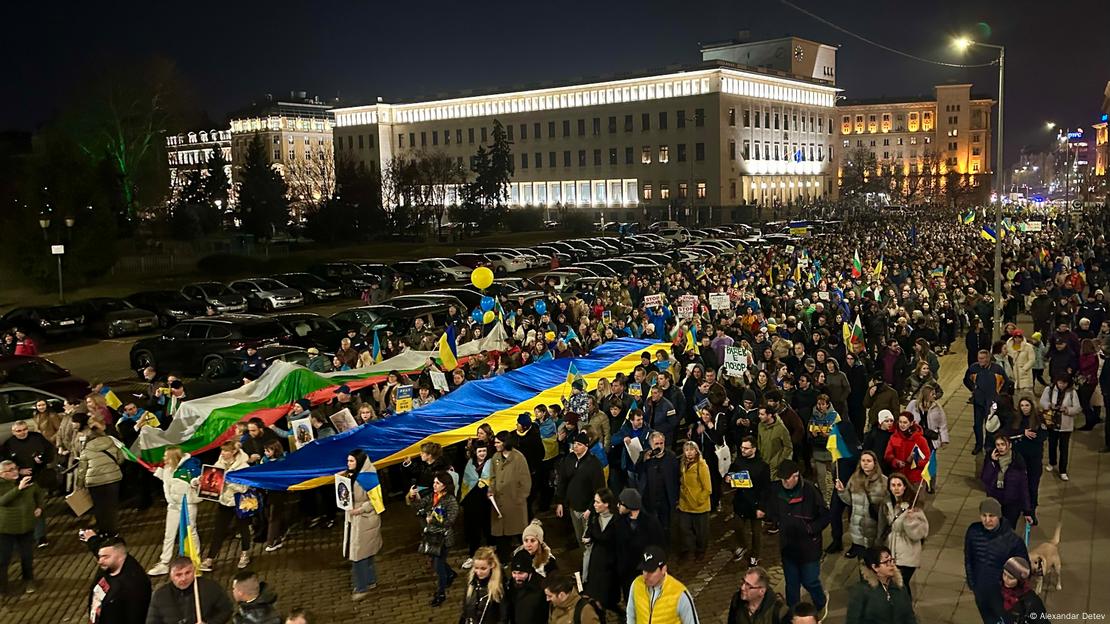 In Utrecht in the Netherlands, about 2,000 Ukrainian refugees gathered to hear by video link a speech by President Volodymyr Zelenskyy. In Brussels, hundreds gathered to wave the Ukrainian flag and chant "Slava Ukraini" (Glory to Ukraine).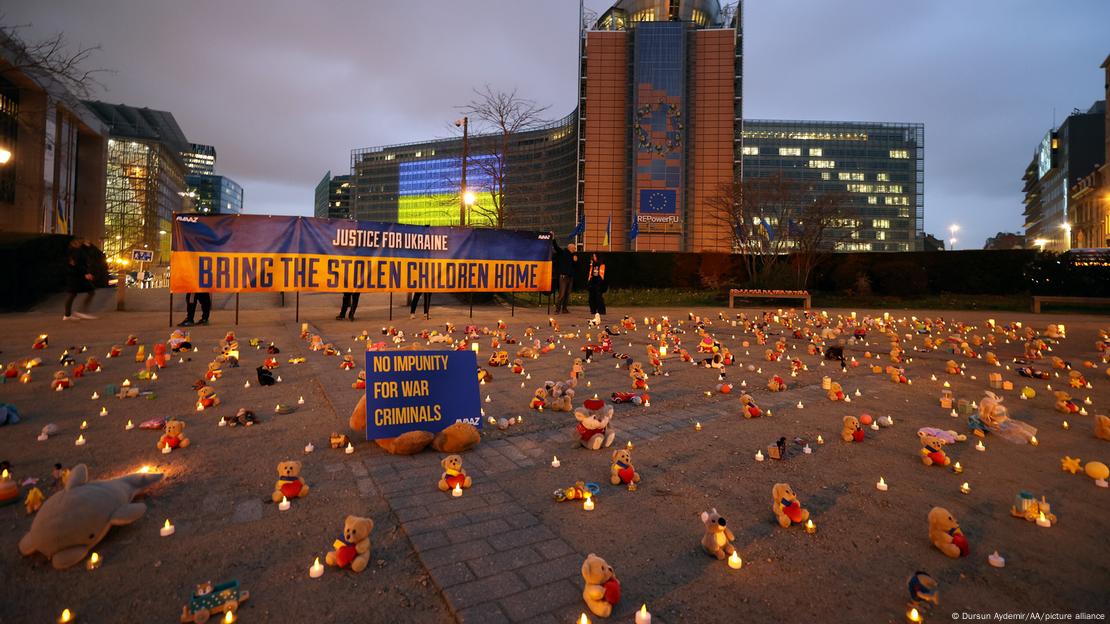 Other events were scheduled for later Friday across the US and other parts of the world. Overnight on Thursday in Washington DC, Ukrainian protesters had gathered outside Russia's Embassy.