Largely peaceful protests are marred by outbreaks of violence as unions claim 3.5 million turned out, while authorities put number at just over 1 million
Emmanuel Macron felt the full force of French anger on Thursday as protesters gathered across the country to demonstrate their opposition to the pension age being raised from 62 to 64.
Unions claimed 3.5 million people turned out across the country, while the authorities suggested the figure was much lower, at just under 1.1 million.
In Paris, union leaders claimed that a record 800,000 people took part in a mostly peaceful march through the city – the police gave the figure as 119,000 – to demand that the government drop the fiercely contested change.
However, the national day of action was marred by outbreaks of violence and vandalism. In the south-western city of Bordeaux, the front door of the city hall was set on fire, while in Paris police and groups of protesters clashed late into the night.
In the capital, the official demonstration, made up of a large cross-section of French society – young, old, professional, unemployed – set off from Place de la Bastille in the early afternoon and made its way to Place de l'Opéra along the Grands Boulevards, the main east-west road through the northern part of central Paris.
French union members, carrying flags and banners, were flanked by their own stewards to ensure their security. The crowd was dense and angry with the government and president, but the mood was also festive and motivated by a show of solidarity.
The atmosphere was soured by a group of young people called casseurs (smashers), dressed in black and wearing masks, who had positioned themselves at the head of the marchand destroyed bus shelters, advertising hoardings, shop windows, the front of a McDonald's, and newspaper kiosks, leaving a trail of glass and piles of burning bins in their wake.
They also pulled up cast-iron grilles around trees and broke up paving stones, which they then threw at police.
The worst clashes took place in Place de l'Opéra and later at Place de la Bastille where police attempted to disperse them with teargas.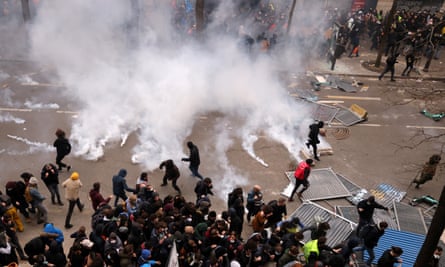 Elsewhere, a woman reportedly had part of her hand blown off by a teargas grenade in the city of Rouen, where between 14,800 and 23,000 protesters gathered, according to figures from police and unions. There were large protests in Marseille, Lyon, Besançon, Rennes and Arles, as well as other French towns and cities.
Even before the president's centrist government pushed the pension changes through parliament last Thursday using a constitutional measure that avoided a vote, record numbers of workers had taken to the streets in the previous weeks.
On Monday, Macron's administration narrowly survived a vote of no confidence – by nine votes – but the way the law was passed inflamed the public mood.
On Thursday, police had been notified of more than 200 protests across France and were gearing up for a massive turnout. Along the route in Paris, banks and businesses were boarded up early in the morning and vanloads of police and gendarmes were stationed along roads.
Many of the protesters, particularly the young, said they had been galvanised by Macron's appearance on television on Wednesday in which he said the protests were "legitimate" but would not lead to a U-turn on the law, which not only raises the official retirement age, but requires workers to make contributions to the pension system for longer.
Among the angriest were women protesters, who said the new legislation was a double punishment for those who had taken time out of their careers to raise children and who were more likely to have low-paid and menial jobs.
"Everyone is angry. Everyone thinks this law is unfair, but it particularly penalises women who are expected to produce future generations of the nation, and then find they are punished for doing so," said Marie, 46, a social worker.
Juliette, 51, a teacher, said: "They want to raise it to 64 today. Will it be 66, 67, 68 tomorrow? They tell us life expectancy is longer, but are we to work until we collapse and are carted off to the crematorium?"
Many protesters accused the president of showing "contempt and arrogance" for those opposed to the changes, which were a keystone of his re-election campaign last year.
On Thursday evening, the interior minister, Gérald Darmanin, said the majority of the 103 people arrested in Paris on Thursday were "mostly young" and were known members of "ultra left" groups. The authorities said more than 120 police officers and gendarmes had been injured. There were no figures available for the number of protesters hurt.
The prime minister, Élisabeth Borne, criticised the violence. "To demonstrate and make ones grievances heard is a right. The violence and destruction that we have seen today are unacceptable," she tweeted.
The radical left leader Jean-Luc Mélenchon called on Macron to withdraw the law. He said he did not agree with violence, but added: "We must redouble our protests and blockades. In France there is a sense of a drift towards authoritarianism; many people are beginning to say it is going too far now."
Widespread strikes and industrial action led to major transport disruption on the roads and flights cancellations. Airport authorities said the protests would have a knock-on effect on the weekend's flights, with up to 30% of those scheduled to depart from Orly, south of Paris, cancelled on Friday and Saturday, along with up to 20% of departures from Marseille, Bordeaux and Lyon. Protesters blocked terminal 1 at Charles de Gaulle airport north of Paris on Thursday morning.
Schools were closed and colleges were blocked around France, including in Paris, Rouen, Marseille and Toulouse. Protesters blocked the entry to a petrol depot in the Bouches-du-Rhône.
In his 30-minute televised interview on Wednesday, Macron ruled out the dissolution of parliament, a reshuffle of his centrist government and the resignation of his prime minister, Élisabeth Borne, as the opposition has demanded. He said his only regret was "that I have not succeeded in convincing people of the necessity of this reform".
Valérie Rabault, the president of the Socialist party group in the national assembly, called on Macron to order a final debate in parliament before the pensions law is enacted.
"We're putting all the options on the table. We have entered a very serious democratic crisis less than a year since the president of the republic was elected," she said, adding that the "blockades damage our democracy and damage France's image abroad".
Marie Buisson, of the CGT union, told France Info radio that the protesters were "determined". "Since the [law] was passed by force, there is anger," she said. "Our objective is for the maximum number of people to stop work."