Swedish climate activist Greta Thunberg has denounced "police violence" in removing climate protesters trying to stop an abandoned village being swallowed up by an open coal mine.
The last resident left Lützerath in western Germany more than a year ago and police moved in to clear activists from the site on Wednesday.
Many of the protesters have gone but two protesters nicknamed "Pinky" and "Brain" are holed up in a tunnel.
Others are waiting in treehouses.
Several thousand supporters are expected to attend a big rally on Saturday in the neighbouring village of Keyenberg.
The police operation in Lützerath, now owned by energy firm RWE, has proved awkward for the government as Germany's Vice-Chancellor Robert Habeck is a leading figure in the Greens.
Germany has promised to phase out coal-fired power by 2030, bringing forward the date from 2038, and Lützerath is expected to be the final village to be swallowed up by the Garzweiler opencast mine. RWE said the coal under the village would be needed as early as this winter.
But the climate protesters have been buoyed by public support, with a survey suggesting 59% of Germans are against the lignite mine expanding.
Lützerath has become a symbol for activists from all over Germany.
"People are already suffering in the global south. Here we're privileged and able to protest and we have to use this privilege to stop the use of fossils," one activist told the BBC.
As police moved in on Wednesday, protesters formed human chains, and took to treehouses or rooftops in the village.
Most had been cleared by Friday, when the focus turned to two young men in a tunnel they had dug beneath Lützerath.
Sitting beside a bouquet of flowers, the two protesters have posted videos on YouTube in which they call themselves Pinky and Brain, taken from an animated cartoon about lab rats in the late 1990s.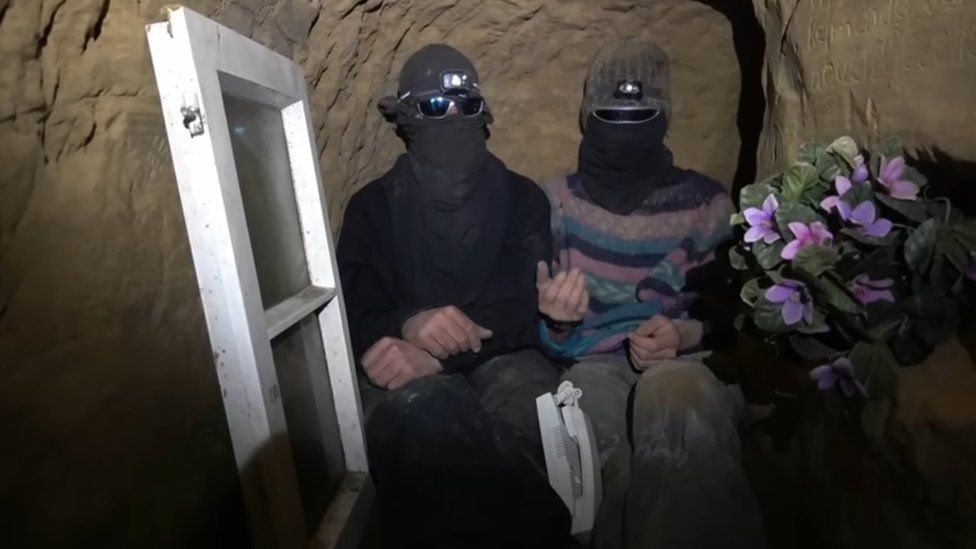 "We're trying to make this last as long as possible so the people upstairs have time to mobilise even more and make the protest even bigger," they said on Thursday night.
"It's much harder to evict a tunnel than a tree house. They don't know exactly where [we] are. All the ways in are barricaded with doors, so getting inside will be a lot harder."
Aachen police chief Dirk Weinspach said his team were trying to communicate with the two underground protesters and warned that the tunnel was in danger of collapse.
Responding to Greta Thunberg's accusations of violence, the police chief said the Swedish activist had made no attempt to speak to authorities about what was going on and had made only a brief visit during which she spoke to the media.
Like the Greens, many of Chancellor Olaf Scholz's Social Democrats are unhappy with the operation to clear the village and believe it runs counter to Germany's commitment to limiting global warming to 1.5 degrees.
Mr Scholz rejected the protesters' claims that using the lignite deposits from Lützerath would put Germany's climate goals in danger. "It's exactly the other way around – we're working politically to achieve our climate goals."